TOEFL - iBT® Test
Test Information
Testing Center

Nablus, PA

Test Duration

3 hours
Description
The TOEFL iBT® test, administered via the Internet, is an important part of your journey to study in an English-speaking country. In addition to the test, the ETS TOEFL® Program provides tools and guides to help you prepare for the test and improve your English-language skills.
The TOEFL iBT test measures your ability to use and understand English at the university level. And it evaluates how well you combine your listening, reading, speaking and writing skills to perform academic tasks.
Should you take iBT®?
More than 30 million people from all over the world have taken the TOEFL test to demonstrate their English-language proficiency. The average English skill level ranges between Intermediate and Advanced. If you are any of the following, then TOEFL iBT is right for you:
- Students planning to study at a higher education institution
- English-language learning program admissions and exit
- Scholarship and certification candidates
- English-language learners who want to track their progress
- Students and workers applying for visas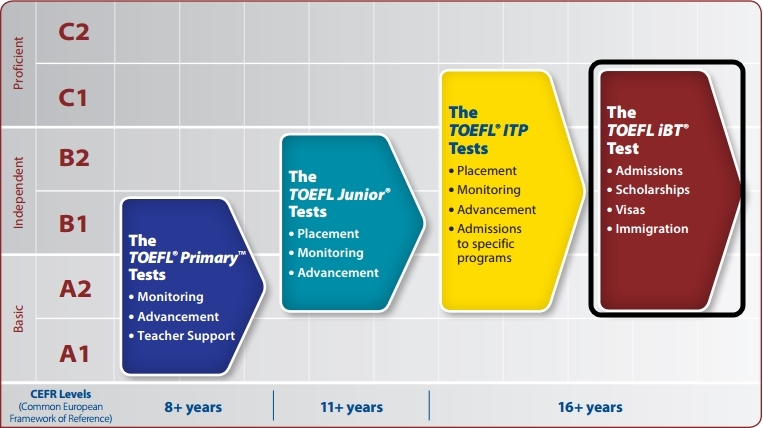 Who accepts TOEFL scores?
More than 9,000 colleges, agencies and other institutions in over 130 countries accept TOEFL scores. For more information, including using your scores to satisfy visa requirements in Australia and the U.K., how to find institutions that accept TOEFL scores, and more
Other organizations rely on TOEFL scores as well:
- Immigration departments use them to issue residential and work visas
- Medical and licensing agencies use them for professional certification purposes
- Individuals use them to measure their progress in learning English
Where can I get support
You can contact Amra at +97292344303 or email us at info@amra-it.com for general in-language information about the TOEFL test and test preparation.
What does the test cost?
The cost of the test varies between countries. At Amra IT we have a competitive price of USD$195. For more information call us at 97292344303, or email us at info@amra-it.com,or you can visit us at our Nablus branch.