Web Hosting
Why choose Amra IT?
We Are With You Every Step Of The Way! Whether you are a seasoned Internet pro, or just starting out with your first website, our professional staff is here to assist you every step of the way. We are here 24/7/365 to assist you with any aspect of your hosting experience. Allow us the opportunity to exceed your expectations.
Get Started Quickly & Easily! Amra IT provides every customer with the necessary tools to get a fully-functional website up and running as quickly as possible. From our amazing cPanel interface, providing an incredibly convenient drag-and-drop website builder, to our own talented web developers that will design you a website to your needs, you can have an amazing website online in no time!
Our easy to use method to transfer your existing content from your prior host and configure it to perform optimally on our platform. We can also transfer domain registrations from other registrars in order to provide you complete management of your entire online portfolio all in one place!
Our Template Builders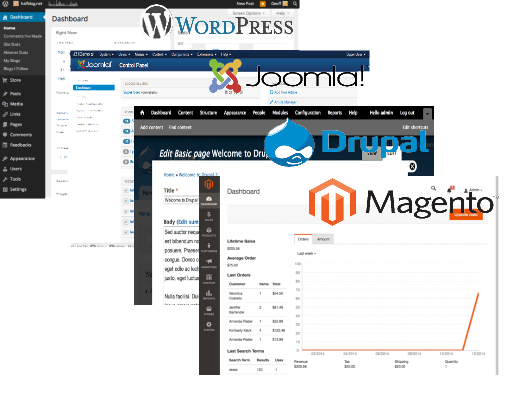 Wordpress: Looking to start a blog, or want a better home for your existing blog? Look no further than WordPress combined with Amra's auto WordPress Installer, and compatible WordPress hosting environment.
Joomla: Amra IT fully supports Joomla, a very powerful and customizable CMS. A wide variety of plugins allow for increased functionality, ensuring your website remains scalable and dynamic for years to come.
Drupal: Develop your website on the Drupal CMS with HostGator! Drupal provides a high level of customization and control over the look and feel of you site. The numerous themes and plugins that are available allow for nearly limitless options.
Magento: Start selling online today with your own E-commerce store powered by HostGator and Magento. HostGator's Business plan gives you everything you need to automatically install Magento, as well as a free dedicated IP and private SSL to accept credit card transactions right from your website.
And Much More!